Regular price
Sale price
$97.00 USD
Unit price
per
Sale
Sold out
Do You Want To Get Stronger But Don't Have A Lot Of Time?

Odds are that if you are already coming to this page, you know of the legendary Russian powerlifting Coach, Boris Sheiko. Professor Sheiko has been nothing short of revolutionary when it comes to pioneering strength programming for those that want to get stronger.
His athletes have repeatedly won world championships and dominated the sport of powerlifting. The breadth and depth of his lifting knowledge remains unparalleled. When Professor Sheiko speaks, everyone listens.
Approximately one year ago, we had the privilege of working with Professor Sheiko to authentically translate his training methodology properly for the first time into English.
You see, there was a problem before we worked with Professor Sheiko.
Due to his mystique and reputation, several people had tried to release programs under his name, without his permission. Many of these programs began circulating for free around the internet. Except they were all wrong.
In fact, the most popular training program people were erroneously following was actually a specialization program he developed for a young female powerlifter who wanted to increase their bench press. And yet anyone and everyone was following it, believing it to be a true representation of Professor Sheiko's methodology.
We worked hand and hand with Professor Sheiko to ensure an accurate translation of his work. We released his Intermediate Strength Program to the masses and for the first time, people could authentically get a strength program straight from the man himself.
The feedback was tremendously positive and we were happy with the finished product.
The only issue was that the program required a solid time commitment. 8-12 hours a week of working out is what the Intermediate program required for people to get stronger.
For many working professionals, students and other lifting enthusiasts, this was too big of a time commitment.
But what if there was a way to get stronger without taking up a lot of your time?
This is why we have created with Professor Sheiko, his Intermediate EXPRESS Program. With just 3 workouts, each lasting 90 minutes, this is the least amount of time you need to dedicated to actually get stronger. 12 hours per week might be a big commitment, but with the Sheiko Express program, 4.5 hours a week is manageable for everyone.
Now, a few things.
Will this program get you quite as strong as his full Intermediate Program?
No, that wouldn't be a realistic belief. It WILL however get you stronger and for the amount of time it requires, you will likely experience faster gains on it versus any other program with similar time commitments.
What's Included:
26 Week Program (3 days a week)

Exercise Video Library With Boris Sheiko

Sheiko Intermediate Express Lifting Guide
This program also is designed quite differently than the Sheiko Intermediate program. Professor Sheiko didn't just remove exercises from the Intermediate program, he designed this one from the ground up.
Look, we understand A LOT of people want to get stronger, but they don't have all the time in the world. This program is for you.
Follow a truly legitimate strength program made by the most important strength coach in powerlifting. Get stronger. Live your life.

This product description is from kizentraining.com.
View full details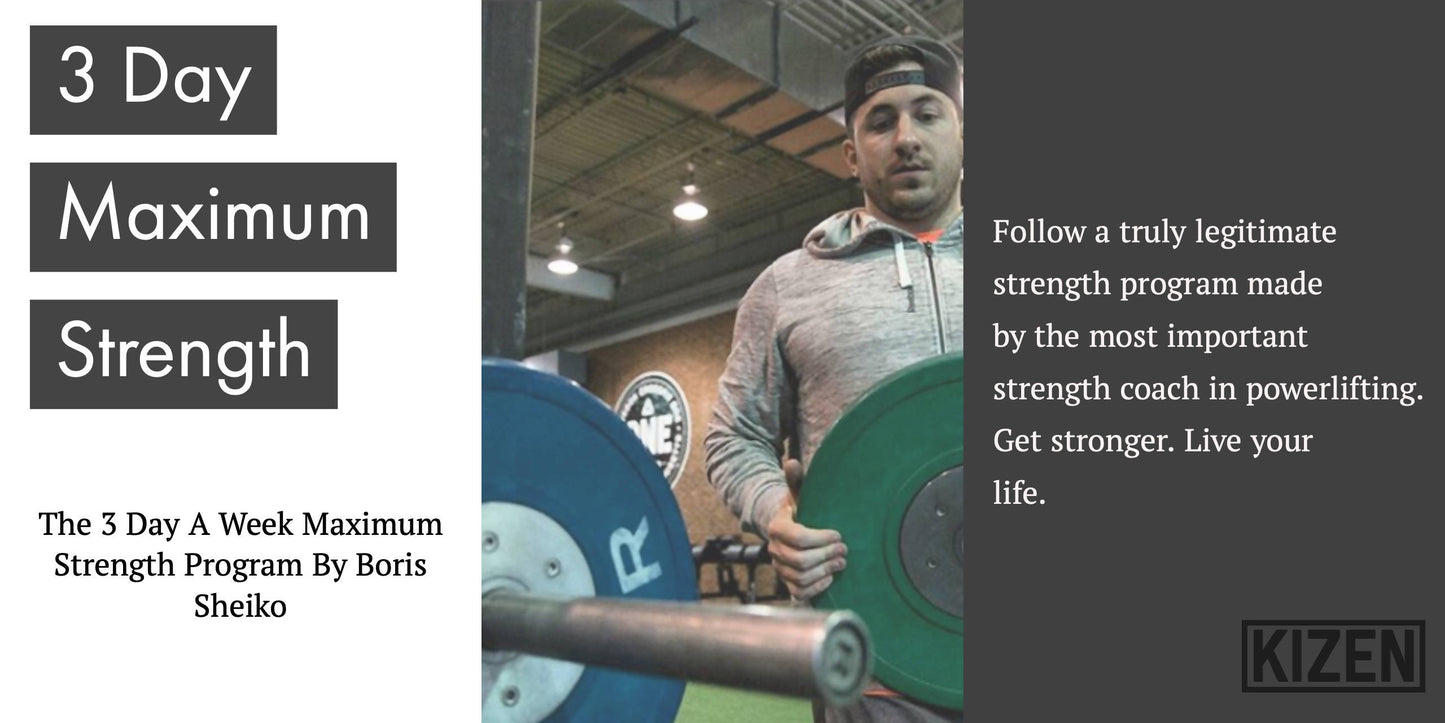 Extra Information
| | |
| --- | --- |
| APP OR SPREADSHEET | Spreadsheet Download |
| AVERAGE WORKOUT DURATION | 90 minutes |
| PROGRAM GOALS | Powerlifting,Strength |
| PROGRAM LENGTH (WEEKS) | 26 weeks,6 weeks |
| SKILL LEVEL | Intermediate |
| TRAINING DAYS PER WEEK | 3 |